"I was terribly sure trees and flowers were the same as birds or people. That they thought things and talked among themselves. And we could hear them if we really tried." - Truman Capote
I paint as a way to connect with myself and others. The Garden District is a place in New Orleans that is unique in its gritty beauty and culture like many neighborhoods in Paris. These abstract floral paintings are rooted in exploring memories from my New Orleans upbringing and recent memories made on a trip last year to Paris. My intention is to make paintings that are full of vibrant color, emotion, and shine that will jump through hoops for you, belt out a show tune, dance the cha cha, hold a yoga pose, do cartwheels, somersaults, and all kinds of other tricks to command your attention for a magical moment and then just be present in that moment with you.
Each piece in The Garden District Collection is an original work created by me with artists grade oil or acrylic paint on cradled canvas and framed with a modern strip frame.
-Kimberly Leo
Ses Fleurs
48"x 36"
oil on canvas
$1500
sold
Love NOLA
48"x 36"
Acrylic on canvas
$1500
Available at FOGUE Studios & Gallery
That Time in Paris
48" x 36"
Acrylic on Canvas
$1500
sold
Always and Always
48"x 24"
Acrylic on Canvas
$1250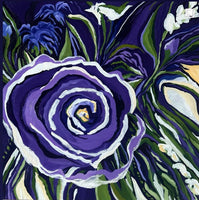 Garden District
36" x 36" on cradled canvas
Oil on Canvas
$1250
Le Jardin Sarcelle
48" x 24"
Oil on Canvas
$1500
Camellias at Moonlight
36" x36"
Acrylic on Canvas
$1250
Garden Dance
48" x 24"
Oil on canvas
$1250
Meet Me in Paris
48" x 36"
Acrylic and gold leaf on cradled canvas
$1500
Sold
Jazz Bloom
48"x 36"
Oil on cradled canvas
$1500
About me
 Statement
I am inspired by natural shapes, flowers, plants, crystals, the moon, ebb, flow, friendship, and the cycle of life. I paint with resin, oil paint, and acrylic paints and often add gold leaf, crystals, and glass into my paintings. This work allows me to live in the moment and provides both an anchor and escape. When I am working on a piece I feel in the moment and when I am not, I am planning and plotting my next piece. Shortly after college I started a family and closed the door on art to begin a corporate career. After the loss of a dear friend and a collection of other life events, I felt a powerful pull to return to art. Making this art stirs my soul and adds a spark to my life. I am so grateful to have found my way back.
Bio
I am originally from Greater New Orleans, Louisiana and have been living in Western Washington since 2000.  I have a degree in Fine Arts from LSU, Baton Rouge, Louisiana.
Art Collection:  The pieces on this site are only a portion of my work. All pieces are original , made with non-toxic resin, acrylic paint, oil, ink and mica pigments. Some pieces are embedded with glass, stone, crystals, copper, and gold leaf. Prices are dependent on materials used and time spent making these unique creations. Please contact me at kimjohnleo@gmail.com if you are interested in a piece from this collection or if you would like a custom piece. 
REPRESENTATION
FOGUE STUDIOS AND GALLERY, SEATTLE, WA
PARKLANE GALLERY, KIRKLAND, WA
Copyright
I retain all copyrights to my art work, you will be the owner. Please do not copy or print my work for resale.